Planning
Optional SAP HANA reports provide in-depth analysis, graphical reporting and pervasive analytics for planning of optimal healthcare, medical, lifestyle resource management for any group of population within any geographic region.
Medistance offers a simple yet powerful planning system that helps to schedule and manage items for servicing or purchasing equipments, based on a variety of criteria.
Forecasting and Planning
Forecasts allow users to predict demand based on potential future requirements, instead of relying solely on received orders. Forecast calculations help users foresee future demand for the product and adjust material planning accordingly. These demand forecasts can be used in the planning wizard.
The planning wizard takes users through the process of creating planning scenarios in five easy steps. Users define the planning horizon, which can be viewed in weeks or days. They can also exclude non-working days from the service and purchase planning. Scenarios can be run for a range of service items or item groups.
Once a scenario is executed, the solution presents a recommendation to 'service' or 'buy' items in a recommendation report. Drill-down options are available to allow planners to view the net requirement calculations and the actual documents, driving the gross resource and product requirements. Exception warnings and visual queries are also available. These help users identify orders that need to be expedited.
Order Recommendations
From the recommendation report, planners can automatically select recommended service orders and purchase orders for automatic creation. If an item needs to be outsourced, the system allows planners to easily convert a production order to a purchase order. Purchase orders to the same service supplier can be optionally consolidated into one order, streamlining the purchasing process.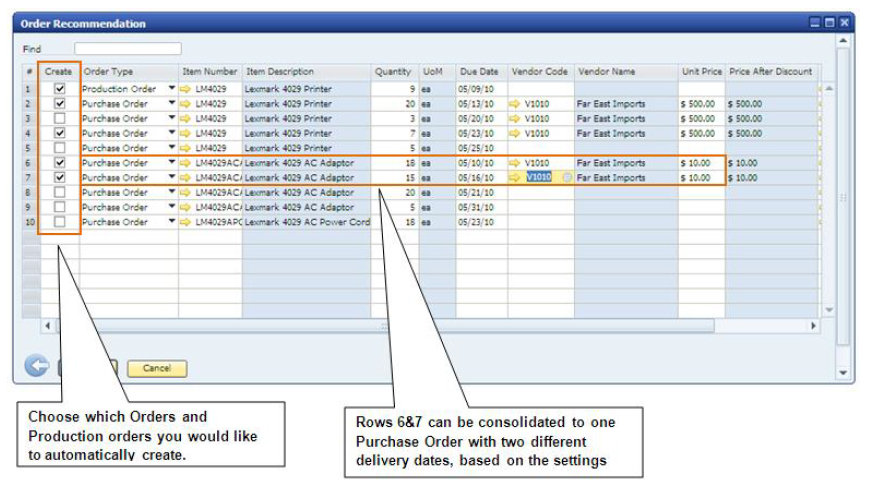 Medistance powered by SAP Business One for SAP HANA is an affordable, easy-to implement, complete intelligent healthcare management solution available on premise, in the cloud, and powered by a secure in-memory computing database. It is designed specifically for small and midsize GP's practices, healthcare provider companies and enables users, members to better plan, manage and optimize personal health-, drug-, lifestyle management and wellness outside traditional healthcare settings while reducing costs and improving satisfaction and care quality.